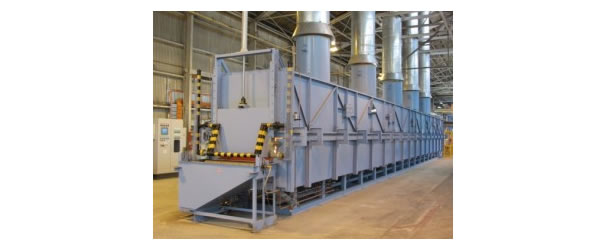 Process lines with remote monitoring
USA News
- November 2021
- Image: Fluid bed furnace
QED specializes in equipment for the in-line heat-treating, cleaning and coating of steel wire. Its furnaces are custom built for multi-strand annealing, stress relieving, patenting and tempering processes. With patented flow technology, the fluid systems integrate cleaning efficiency with high wire speeds.
The company is supplying new process lines with remote monitoring and control of the equipment's key functions. Networked control panels are further enhanced with software and hardware for communicating directly with internal networks. The Siemens-based PLCs work in unison with an Ixon router for seamless LAN integration.
The equipment package includes a cloud-based command center offering solutions such as live production dashboards, real-time messaging alerts and access to equipment from anywhere in the world.
Ixon Cloud 2 provides fast PLC access over a secure network, with real-time remote monitoring and control of production indicators using online dashboards. Operators can connect to the process line via computer or smartphone. Options include cloud data logging and alarm notifications to mobile devices.
The remote access capability permits troubleshooting from anywhere in the world. The software has status screens that indicate all inputs and outputs, in order to simplify maintenance and operations.
All temperatures and pressures are graphed for easy visualization of the process trends. Alarms are logged along with the time and date of the incident. This data is critical for product quality assurance and standards compliance such as ISO 9001.
AutoCoat™ — an upgrade to existing high-speed zinc and Galfan process lines — uses independent measurement and fine-tune control to achieve consistent and uniform coating weight application with a precision of ±10g/m2. Data acquisition and networking with remote monitoring are provided using the latest Siemens PLC hardware.
The measurement of galvanized coatings on steel wire is achieved via sensors that communicate with a Siemens PLC control panel in real time. The sensors relay current coat weight data that is instantly compared to a user-set target. The system then regulates a closed PID loop, controlling output pressure to individual nitrogen nozzles.
With a bed of fine aluminum oxide particles and precise air and gas control, QED's fluidbed furnaces offer an environmentally friendly heat-treating solution in an energy-efficient package. The fluidbed's rapid heat transfer results in shorter furnace length and more compact and easier-to-operate process lines.