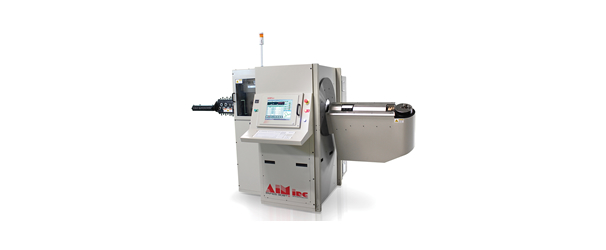 3D bender with servo cutter
USA News
- October 2021
- Image: AIM's AFES 3D8T
AIM's new AFES-3DxT line is an updated five servo-axis turret tool-changer machine with a fast servo cutter. The turret head indexing tool changer provides flexibility in wire forming capability, while the new servo-cut ensures fast and quiet production.
Standard features include DXF, LRA and XYZ import, animated bending simulation with collision detection, auto pilot speed/load monitoring, touchscreen monitors, Microsoft Windows, 5 hp wire payoff, Dial-A-Service
for remote support via the Internet, and a maintenance module that reminds users about necessary work for zero downtime.
Available options include automatic bend setup with AccuCal, easy production statistics with AccuTrack, 24/7 online AIM Academy training, Faro, Romer and Aicon CMM communications for automatic programmer corrections, integration with robots, and STEP and IGES file importing.
In all instances, wire can be fed directly from a coil, straightened, bent and cut using a software package that provides flexibility and simplicity in programming and is offered in all universal languages.