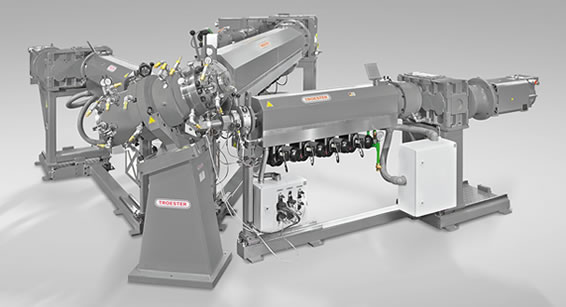 Troester exhibits at wire Russia
Europe News
- May 2021
- Image: A Troester CCV line extruder group
Troester is a manufacturer of complete extrusion systems for the cable industry.
At wire Russia on stand C18, the company will present its technology and solutions in the fields of:
Rubber CV and CCV lines up to 35 kV
XLPE CCV and VCV lines for power cables up to 500 kV
Sheathing lines for medium and high-voltage cables
Insulation lines for LV and MV cables
X-Compound, part of the Troester troup, will also be in attendance at the stand to present its kneader technology for the continuous compounding of HFFR (LSOH), PVC, XLPE, Semiconductive Materials and EPR/EPDM.
The company specialises in the planning and construction of complete systems for the compounding of plastics with the process steps conveying, melting, dispersing, mixing and degassing.