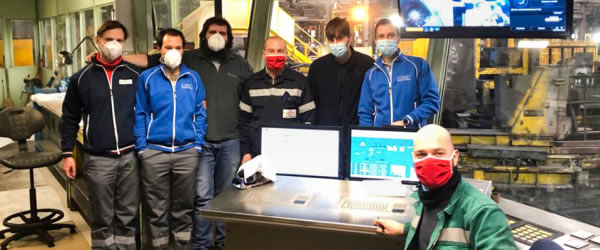 Finishing area upgrade at Cogne Acciai Speciali
Europe News
- April 2021
- Image: Courtesy of AIC
AIC has successfully completed the scheduled start-up phase of the rolling mill at Cogne Acciai Speciali (Aosta, Italy). Based on a detailed risk analysis performed during the last year with the technical support of Italian company NECSI, the project is focused on an upgrade of the PLC control systems of the finishing area for both wire rod and Garrett lines.
The scope of supply includes the upgrade of the existing automation and control system, replacing the obsolete S5 controllers with Siemens S7-1500 PLC; the design, manufacturing, supply, electrical erection and commissioning of the new safety and PLC control cabinets; and revamping of the network interfaces, as well as communication between a new PLC and existing Mill and WTP control PLCs.
A new Profinet/ProfiSafe network is being implemented between new PLC master and new local equipment equipped with fail-safe cards. AIC is also supplying safety fences and protection, as well as access gates to the segregated areas, and the interface with existing power control panels.
Following the dismantling and replacing of the obsolete systems and equipment, the upgrade increases quality and reliability of the entire system.
AIC is a global system integrator that provides automation and robotic solutions for the steel industry, with the aim of improving efficiency, competitiveness and safety of production processes.
Cogne Acciai Speciali produces stainless steel long products, and its facilities include a steel shop, a forging shop, a rolling mill, a finishing department and a machine shop. The production area is equipped with EAF UHP, AOD converter, RH degassing, continuous casting, blooming mill, integrated mill and CNC machine tools, allowing the company to produce ingots, blooms, billets, round and flat forged, seamless tubes and profiles, bars and wire rods.