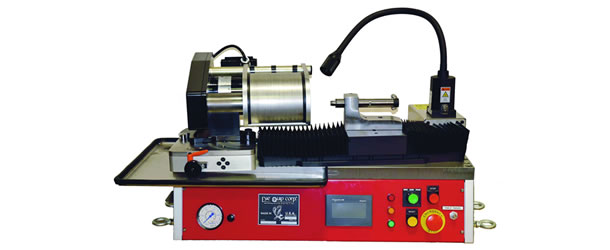 Stand-alone die finishing
Products, Machines & Technology
- December 2020
- Image: Die Quip's MGF-200 Die Saver
Die Quip has established a line of die finishing machines to grind, polish and size dies in a quick, efficient, accurate process, eliminating operator error and guesswork. Better dies pull more wire and cause fewer production problems, so Die Quip designed stand-alone machines for finishing dies in all sizes; for larger production runs, the company builds work cells to maintain efficiency and eliminate downtime from size changeovers.
The company's approach to a modern die shop implements a workflow system that sets procedures and incorporates training to maximize each machine's capabilities.
Die Quip has designed extensive training options and on-site consultations that teach operators how to use its equipment, how to choose diamond tooling for maximum results, and the different methods of making dies. Its technicians will spend time in clients' facilities, designing programs customized to meet production needs, and providing reference materials such as an exclusive Die Training Handbook.
The company supports the customer through installation, training and troubleshooting for the life of the machine, and builds relationships with customers worldwide, through a network of industry representatives.