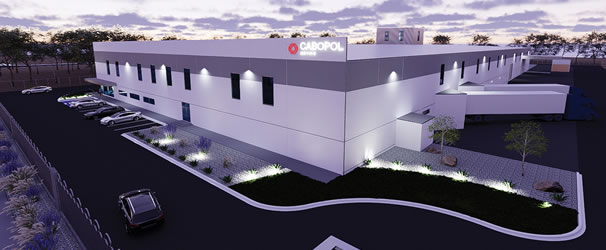 Compound production expands with new unit in Monterrey
Europe News
- November 2023
- Image: The design of Cabopol's new unit in Mexico
Cabopol Polymer Compounds, a producer of thermoplastic and cross-linked compounds, is expanding its global presence with the opening of a new production unit in Monterrey, Mexico. The new unit is part of a long-term strategy to provide clients with better products and services and to reach new markets.
The unit will have an initial configuration of two production lines, with potential for expansion, and the company expects to achieve a production capacity of 25,000 tons per year. As Cabopol's first production unit on the American continent it paves the way for expansion in this region, and follows the successful operation of production units in Serbia, Morocco and Portugal.
The production unit, located in Monterrey's industrial zone, will be equipped with the latest technology to enable the production of high-quality polymer compounds. It will significantly increase the company's production capacity, improve supply chain efficiency, and reduce lead times for customers in the Mexican and American markets.
Cabopol sales director Anselmo Mendes said, The opening of our new production unit in Monterrey, Mexico, marks a pivotal moment for Cabopol. We are dedicated to delivering the highest quality polymer compounds, and this expansion allows us to further our commitment to excellence. We are excited to better serve our customers and contribute to the growth of the local economy.