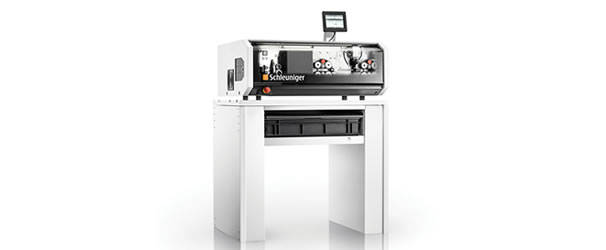 Improved production capabilities with investment in equipment
USA News
- November 2023
- Image: MultiStrip 9480
Buckeye Electrical, located in Botkins, Ohio, USA, is a family-owned and -operated manufacturer of custom wire harness and cable assemblies. After struggling to meet critical manufacturing needs with out-dated equipment, and relying on time-consuming manual processes that hindered output, precision and overall efficiency, company president Kevin Platfoot decided to invest in new solutions.
According to Mr Platfoot, the company conducted extensive research by attending trade shows, contacting other suppliers and testing equipment in-house. He concluded that Schleuniger's technology and expertise could streamline production and offer the team a competitive edge.
With the assistance of Schleuniger sales representative Bruce Moore, Mr Platfoot explored solutions that could process 8-18 gauge hook-up wire as well as coax, multi-conductor and battery cable. Together, they determined that the MultiStrip 9480 and PowerStrip 9580 cut and strip machines would be a good fit for the facility.
Since implementing the machines, Buckeye's production capabilities have improved. We currently process about 12mn feet of wire per year utilising three cut-and-strip machines, which would have been unfathomable before, said Mr Platfoot, who also commended Schleuniger's Cayman cut-and-strip software for its user-friendliness, seamless file sharing and ability to easily modify production runs.
Alongside cutting and stripping, Buckeye uses wire marking in its manufacturing process, and considers Schleuniger's ability to integrate with printer technologies a valuable bonus. One example of this is the increased output from the MultiStrip 9480 with inkjet printer integration. Mr Platfoot estimates that this implementation has helped boost processing capacity by at least 50 per cent.
The company intends to purchase additional Schleuniger machines to accommodate future growth and assist with meeting new production goals.