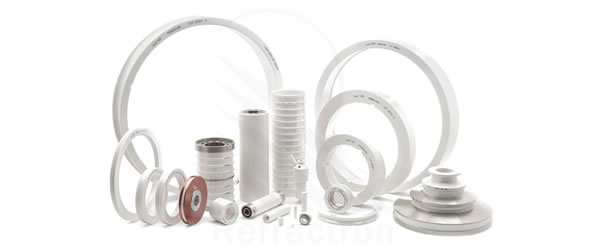 Improved ceramic properties
USA News
- November 2023
- Image: Applications for Izory HD include wire guides, rings, threaded eyelets, pulleys and capstans
The team at Refractron understands the critical role ceramics play in wire manufacturing and how to optimise performance. The company's Izory®HD material has a pristine microstructure and properties for longevity and preserving wire quality.
The company states that Izory HD will reset expectations for the performance of the draw rings, step cones, pulleys, eyelets and guides used to manufacture wire. It is claimed to be 15 per cent harder and 30 per cent stronger, and to offer a 40 per cent improvement in standardised abrasion testing when compared to traditional magnesia stabilised zirconias (MgPSZ) used throughout the wire industry.
Izory HD offers the same fracture toughness — the property that quantifies the ability of a material to resist crack propagation and chipping, and is critical to the durability required for parts used in wire manufacturing.
The material's improved microstructure and properties allow it to resist dimensional changes. Its resilience can translate into longer maintenance cycles and better wire quality.
Izory HD can be used to manufacture a variety of products for any application where wire quality is important and wear resistance is required. Refractron has designed Izory HD for wire guides on CV lines, rings on rod breakdowns, threaded eyelets on take-ups, pulleys in annealers, and capstans on multi-wires.
The company's manufacturing centre in Rochester, New York, USA, starts with in-house powder, and its forming and finishing capabilities allow it to make almost any precise shape that a process requires. To help provide just-in-time delivery for unplanned maintenance, the company keeps a large inventory of Izory HD drawing rings, eyelets, guides and rolls in stock for many standard machines, including those made by Niehoff, MFL, Samp, Syncro and Henrich.
Recognising the importance of engineering and design support and customer service, Refractron offers face-to-face meetings and on-site assessments to clarify goals and identify requirements and objectives.