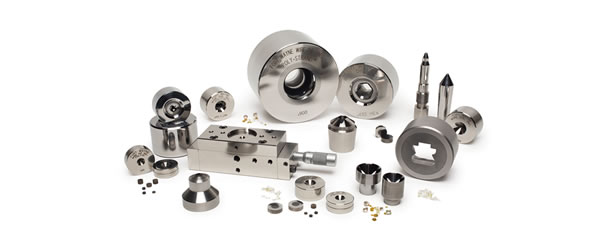 Dies and re-cutting services
USA News
- October 2023
- Image: Fort Wayne Wire Die's product line
Fort Wayne Wire Die, Inc was founded in 1937 as a manufacturer of precision single-crystal natural diamond dies. The product line has since expanded to include polycrystalline diamond dies, tungsten carbide dies, shaped profile dies, extrusion tips and dies, and other wear parts for the wire industry.
The company also provides re-cutting and reconditioning services for diamond and carbide dies, and supplies new and re-cut matched elongation die sets for high-speed, multi-wire drawing machines. It offers a complete line of equipment for die maintenance and inspection of wire drawing dies, allowing it to offer customers worldwide the necessary equipment and tools to operate an in-house re-cutting service.
Fort Wayne Wire Die's corporate offices, including engineering, research and development, and administration, are located in Fort Wayne, Indiana, USA. The company's products are sold by direct sales engineers in North America; through sales offices Fortek GmbH (Europe), Fort Wayne Wire Die (Philippines) Inc (Asia), Fort Wayne Wire Die de Mexico (Mexico), and Fort Wayne Wire Die (Shanghai) Inc (China); and through a network of independent agents and distributors around the world.
The standard product line includes single crystal natural diamond wire dies featuring X-ray orientation and optimum accuracy and surface polish from 0.0075 to 2.9mm (0.0003" to 0.114"). Polycrystalline diamond (Poly-Di) dies for maximum die life are available in sizes from 0.023 to 24mm (0.009" to 0.95").
Tungsten carbide dies are available for both round hole and shaped profile, in the standard R-Series nibs from R-2 to R-19, and also as rough core or finished in hole sizes from 0.2 to 76mm (0.008" to 3"). Nano diamond coated dies (Nano DCDs) for use in stranding, bunching and compacting applications of conductor cables can be supplied in sizes as large as 100m (3.9").
Extrusion tips are precision custom-manufactured in single crystal diamond or polycrystalline diamond with guaranteed concentricity to 0.0002" TIR (0.005mm). Tips and dies are also available in tungsten carbide or tool steel.
Other services and products include re-cutting services for single crystal diamond dies, polycrystalline diamond dies or tungsten carbide dies; matched elongation die service; dual-draw dies that allow single-wire machines to double productivity; special wear parts made to customer specifications, including bunching and stranding dies, cut-off dies and shaving dies; and custom-made shaped wire dies (polycrystalline diamond or tungsten carbide) in a wide variety of shapes, including half-round, oval, hexagon, rectangle, triangle, square and flat.