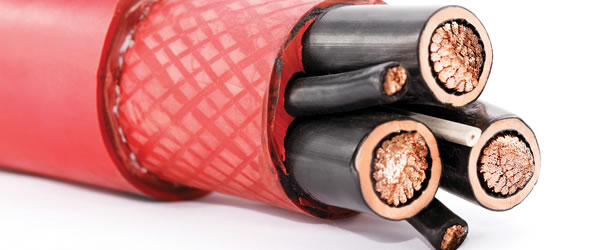 Polymeric solutions for the wire and cable industry
USA News
- October 2023
- Image: ECC's solutions include compounds for industrial power applications
Electric Cable Compounds, Inc (ECC) is a privately owned and operated global producer of high-performance rubber and plastic compounds.
Since 1988, it has provided polymeric solutions to the wire and cable industry, and offers its own proprietary product line as well as custom mixing services. Examples of materials produced include elastomeric and polyolefin-based cross-linkable and thermoplastic compounds that exhibit a combination of flexibility, electrical performance, ageing stability and processability. All materials are pelletised.
ECC's product line includes peroxide, moisture and irradiation cross-linkable compound options for high-performance cable insulation. Common applications include appliance wire, automotive, industrial power, building, medium voltage power cable, oil and gas, photovoltaic and shipboard.
The AquaGraft® moisture cross-linkable systems allow customers to produce thermoset insulation without investing in expensive curing processes. The EPR-based systems provide flexibility while maintaining performance properties. The multi-component systems allow manufacturers to customise blend ratios to specific needs. Select systems are bulletinised for UL-44, XHHW-2 and RHW-2 with horizontal and VW-1 flame performance.
SuperOhm® peroxide cross-linkable EPR-based compounds are designed for high-temperature stability and electrical performance. The grades are typically used in medium voltage and industrial power applications. Voltage classes range from 25 kV to 138 kV.
The Excelene grades are cross-linkable elastomeric polyolefin compounds designed for high-temperature applications that require a balance of mechanical properties, electrical properties, thermal stability and performance. They are used for appliance wire (125°C and 150°C rated) and automotive primary wire and battery cable (also 125°C and 150°C rated).
In terms of custom development and tolling services, ECC has extensive experience with EPR, PE, PP, POE, EVA and high-performance elastomers, among others.
The company houses a laboratory that includes various analytical testing capabilities and pilot-scale production equipment. These resources allow ECC staff to complete research and material evaluation to continuously develop solutions in the field of rubber and plastics technology. Experienced chemists and technicians provide customers with timely technical assistance, and lab personnel also focus on design and development of custom compounds to meet specific customer needs and applications.