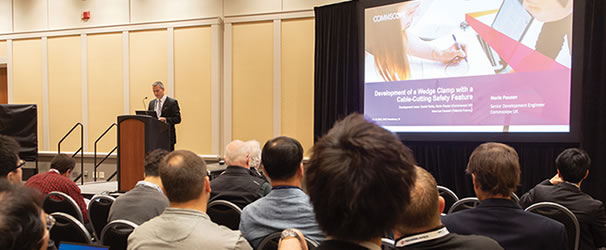 Call for technical papers for annual IWCS industry forum
USA News
- February 2023
- Image: Papers will be presented during the technical symposium of the industry forum
IWCS is seeking industry professionals and academic researchers to submit a 300-500 word abstract summarizing research or emerging technologies affecting the global cable and connectivity industry.
Abstracts will be reviewed by the IWCS 2023 technical symposium committee, and authors of accepted abstracts will gain international exposure for their work. Technical papers will be presented during the technical symposium component of the 2023 IWCS Cable & Connectivity Industry Forum, and will be published for ongoing research and education.
Examples of paper topics range from manufacturing processes of copper and optical fiber cables, innovative cable design, codes and standards, connectivity and assemblies, installation techniques, materials and extrusion processing.
IWCS accepts submissions from all industry professionals, with no limitation of job title or level of experience. Examples of past authors' roles include engineering, research and development, product management and academia, in a variety of market and industry segments relevant to cable products, materials, processes and applications.
A referral program is available for those who wish to refer their colleagues to submit a paper. The person who refers the most authors of accepted technical papers will receive complimentary full-access registration to the 2023 Cable & Connectivity Industry Forum.
A complete list of suggested subjects, along with submission criteria and resources to refer colleagues, can be found on the IWCS website at iwcs.org iwcs.org/present . The deadline to submit a technical paper abstract is April 7, 2023.