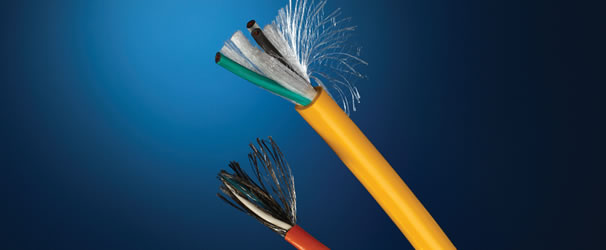 Insights on emerging 5G and EV infrastructure opportunities
USA News
- December 2022
- Image: SuperBulk fibrillated cable fillers offer customized performance to cables for 5G, broadband and EV infrastructure projects
In meetings held during IWCS 2022, designers and engineers from Web Industries outlined how contract manufacturers can help telecom, power and energy, technical textiles, medical and transportation industry professionals roll out 5G, broadband and electric vehicle (EV) technologies.
Among the meetings' highlights was a success story involving a major producer of data cables. With the assistance of Web Industries, the cable company increased its manufacturing throughput by 325 per cent, while virtually eliminating defects in its shielding tape production. In addition, Web Industries high-capacity spools enabled the cable producer to extend the length of its production runs.
"The event was a great reminder that the wire and cable industry is a key enabler for many critical current and future initiatives, like the ongoing global 5G and EV charging network build-outs," said Dante Ercoli, Web Industries director of sales for industrial markets. "It presented a unique opportunity to reconnect with our customer base and reinforce the wide range of customized formulation, extrusion and cable component manufacturing services that we offer while explaining new capabilities and capacities that we brought online during the pandemic."
As a provider of contract converting and turnkey manufacturing services, Web Industries supports wire and cable companies in accelerating their speed-to-market for new products, clearing up sourcing and supply chain problems and freeing in-house assets and personnel to focus on core business activities.
Visitors to the company's IWCS exhibit also learned about its offerings for cable and broadband applications, including high-performance cable fillers, customized extruded wire components and precision-tuned signal isolation tapes.
Superbulk® fibrillated cable fillers can be tailored to meet different requirements for color, fibrillation levels, fiber diameters, tensile strength and elongation. Superbulk filler is formed into yarns and tapes, making it more flexible than piped-in polypropylene foam or beads.
Web Industries employs in-house film extrusion and precision slitting capabilities to manufacture separation and signal isolation tapes to customer specifications. This allows greater fine-tuning and the development of products with unique performance characteristics.
Also on show at IWCS were Web's narrow-width flat and fibrillated PP/HDPE-based tapes, which are designed for specialized uses and can be formulated with customized characteristics such as different orientations for increased strength and reduced weight.