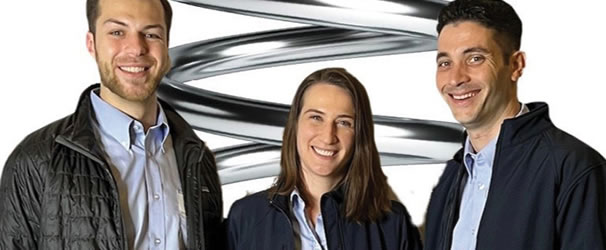 AWI springs into action at CASMI event
Europe News
- December 2022
- Image: Steve Gencarella, Michelle Nichols and David DiNuccio represented AWI at SpringWorld
Round, flat and profile wire manufacturer Alloy Wire International (AWI) used its presence at SpringWorld 2022 (CASMI) in Illinois in October to launch its new Inconel alloy 686, a single-phase, austenitic alloy that delivers resistance to the general and stress corrosion cracking that can occur in aggressive liquids and gases.
The wire is expected to be used within components destined for corrosive environments, in industries that require materials to perform under extreme engineering conditions without premature failure. Areas of application will include springs, wire forms and fasteners used in chemical and petrochemical processing, oil and gas extraction, acid processing, waste management and in marine environments.
Stephen Olley from AWI commented, "Spring makers had a fundamental role in the Covid-19 response, and we continue to support firms who supply products into automotive, aerospace, medical, nuclear and the resurgent oil and gas markets. They require material that can work in all types of demanding applications from intense heat and sub-zero temperatures to highly corrosive environments. This is why we are so pleased to be launching Inconel alloy 686 after months of trials and testing."
The wire is available in sizes ranging from 0.025 to 5mm (0.001" to 0.197"), and can be made to customer specification within three weeks.