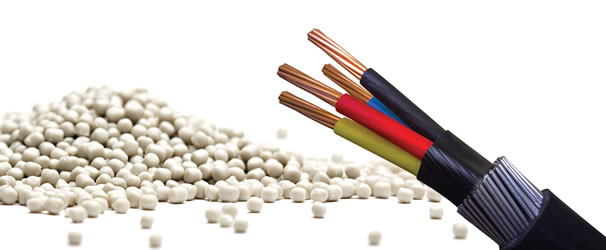 Elastomers meet complex compound requirements for insulation and jackets
USA News
- July 2022
- Image: Teknor Apex's Flexalloy PVC elastomers provide durability and flexibility
Flexalloy® PVC elastomers are abrasion-, chemical- and oil-resistant thermoplastic compounds with low-temperature flexibility for wire and cable applications. Teknor Apex developed the elastomers for a variety of insulation and jackets in applications from electric vehicle charging stations to industrial automation and portable power cables.
With a brittle point as low as <-60°C and a high temperature rating of 105°C, Flexalloy elastomers are UL-recognized components for outdoor and wet location applications. The compounds are resistant to sunlight, abrasion, oils and chemicals and have a high degree of flame retardancy.
These features are critical in emerging applications such as electric vehicle charging stations, said David Braun, wire and cable industry manager for Teknor Apex's vinyl division. Cables at these stations have to be durable over many years of service, be able to handle summer heat and sun, be flexible enough to coil and uncoil, and resist environmental contaminants like oil. They must also remain extremely flexible when charging in very cold winter weather.
Mr Braun also noted that having field-tested and proven materials has become increasingly important given the rapid growth of electric vehicles: 6.6mn units last year — almost double that of the previous year and compared to 130,000 per year in 2012, when the market was just getting started.