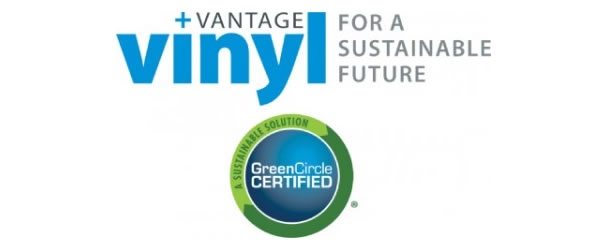 Vantage vinyl verification in industry sustainability initiative
USA News
- May 2022
- Image: +Vantage Vinyl GreenCircle Certified
Teknor Apex has successfully met all of the requirements of +Vantage Vinyl™, an industry-wide sustainability initiative that engages companies across the entire US vinyl value chain.
Companies that showcase the +Vantage Vinyl mark have undergone verification by third-party GreenCircle Certified, to confirm their progress to the program's guiding principles relating to environmental stewardship, social diligence, economic soundness, open communication and collaboration.
The initiative's structure ensures that Teknor Apex is advancing the sustainability journey of the vinyl industry in alignment with targeted United Nations Sustainable Development Goals (UN SDGs). The Vinyl Sustainability Council (VSC) identified three impact categories involved in this effort: resource efficiency and recycling; emissions; and health and safety.
VSC created +Vantage Vinyl as a voluntary initiative to advance the US vinyl industry's contribution to sustainable development, and states that it is the only sustainability initiative that allows participation from all companies within the entire vinyl value chain with US operations, ranging from raw material manufacturers and suppliers to final product manufacturers and retailers.
For more than 70 years, Teknor Apex has supplied the industry with a wide range of standard and custom vinyl compounds. The company is committed to sustainability, as a business partner, an employer, a community member, an environmental steward and a value creator for its stakeholders.
We are proud to be honoured by the Vinyl Sustainability Council, whose +Vantage Vinyl program reflects our own environmental commitment at Teknor Apex, said Mike Patel, director of marketing for the vinyl business. Our guiding principles of environmental stewardship, social diligence and corporate governance influence our business decisions to ensure vinyl remains a sustainable material choice and provides confidence to our customers that they are making a sustainable choice when choosing Teknor Apex products.