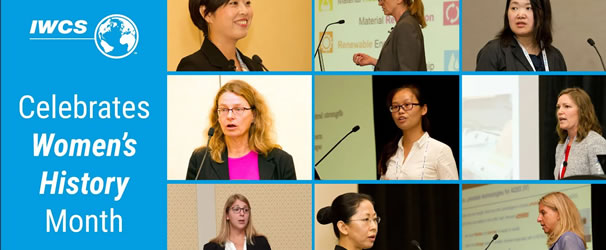 Celebrating Women's History Month throughout the industry
In March, IWCS celebrated Women's History Month. According to The Library of Congress, Women's History Month is about "…commemorating and encouraging the study, observance and celebration of the vital role of women in American history."
In recognition of this month of awareness, IWCS highlighted significant achievements and contributions that have been made by women. The 71st IWCS Cable & Connectivity Industry Forum, taking place October 10-13 in Providence, Rhode Island, will feature several new event components that recognize the contributions women have made to advance the industry.
One example is a technical symposium session that will feature papers contributed by women. When submitting a technical paper abstract, authors have the option for their paper presentation to be included in this session.
In a historically male-dominated industry, many IWCS stakeholders — authors, presenters, students, event attendees, sponsors and exhibitors — are women. The IWCS technical paper archives show a sizable amount of papers from female authors, and IWCS is committed to continuing to increase female participation.
According to the most recent occupation report published by National Science Foundation/National Center for Science and Engineering Statistics (NCSES), only 29 percent of science and engineering jobs are occupied by women. A scholarly article regarding equality for women in STEM fields notes the importance of education: "Research has highlighted the importance of the educational process in increasing the representation of women and URM [under-represented minorities] in science, technology, engineering and math (STEM)."
One of IWCS's aims is to develop industry professionals through education and scholarships, and it recognizes the importance of helping young women pursue technical degree programs to prepare themselves for successful careers. In the two most recent years that IWCS scholarships have been awarded, women have represented 46 percent of recipients.