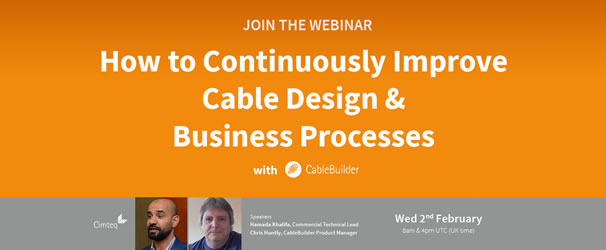 Invitation to webinar on improving cable designs and business processes
Europe News
- January 2022
Cimteq, a supplier of software to the wire and cable manufacturing industry, is inviting manufacturers to sign up to attend a webinar on Wednesday 2nd February.
The webinar will focus on CableBuilder within the wire and cable manufacturing industry, with Cimteq experts demonstrating the benefits of implementing CableBuilder into operations.
The webinar will be delivered at 8am UTC and again at 4pm UTC, by Hamada Khalifa, commercial technical lead at Cimteq, and CableBuilder product manager Chris Huntly, who commented,
Our webinar, entitled How To Continuously Improve Cable Designs and Business Processes with CableBuilder, will provide attendees with the ideal opportunity to learn about how CableBuilder software can improve manufacturers' cable designs by speeding up the process and providing accurate quotes that meet changing customer and industry demands.
A live demonstration and a Q&A session will also be part of the webinar. Those interested in attending can sign up at here