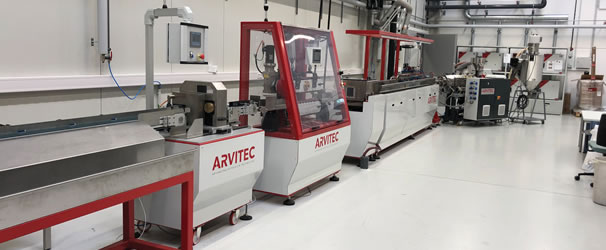 Co-extrusion line to expand support of development projects
USA News
- December 2021
- Image: The Arvitec line in Rothenburg ob der Tauber, Germany
Teknor Apex has added a complete new Arvitec co-extrusion line at its application development laboratory in Rothenburg ob der Tauber, Germany, enhancing its capabilities for plastics research and development. The line has been completely commissioned and trialed, and is ready to support clients' development projects as well as internal company development projects.
The state-of-the-art Arvitec extrusion equipment serves as another great addition to our technical capabilities in Europe to support advanced application development projects, quality control and process optimization, said Gert Joly, director technology Europe. We are pleased to offer lab scale testing for co-extruded applications, critical for our clients' successful product development, allowing them to perfect conditions before a full-scale production roll-out.

Application development laboratory manager Thomas Aschenbrenner added, Arvitec machinery is popular amongst our customers within Europe so this allows us to do development and problem solving on the very same equipment they run their product with. Along with running trials and prototypes for customers we can use this line to speed up our own internal material developments.

The line, which was custom built for Teknor Apex, includes dual Genesis extruders, a calibration table, haul-off, and a rotary blade providing a clean and burr-free cut. It is flexible for a large variety of applications, and offers touchscreen controls with an intuitive, easy-to-operate design. The advanced controls offer complete automated performance with control reports and recording of setups for ease of repeatability. Arvitec can also provide remote support with the ability to fully monitor and control the system in real time, via an Internet connection, from its location in Spain.

Multiple TPE/TPV/PP material combinations have been successfully extruded with different profile geometries: two-layer tubes for AdBlue systems or cooling fluids of battery-operated electrical vehicles (BEV); two-component strips consisting of low-friction Sarlink slip-coat materials on top of a soft TPE/TPV for automotive sealing systems; and various other automotive profiles.

Customers looking to meet sustainability goals can trial replacing extruded EPDM (thermoset rubber) profiles with a recyclable alternative such as TPV. As well as being recyclable, TPVs offer design flexibility for hard-to-achieve shapes.