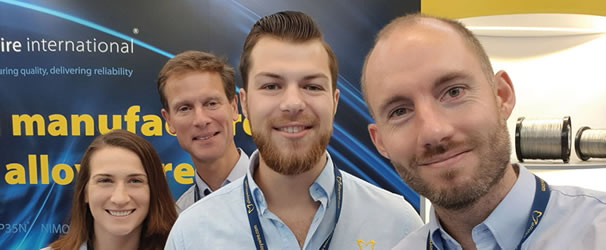 Transatlantic growth marks 20 years of North American partnership
USA News
- December 2021
- Image: (from left) Michelle Nichols, Angus Hogarth, Steve Gencarella and Tom Mander
The power of transatlantic relationships is helping a British wire manufacturer target £1mn sales in the USA.
Alloy Wire International (AWI), which produces wire in 60 different alloys, is on course to hit its seven-figure order target, and sees it as a good way to celebrate its 20-year partnership with Davidon Alloys Inc. The Rhode Island-based company has been AWI's North American headquarters since a chance encounter at the Interwire Exhibition 2001, and the relationship has generated almost £10mn of sales since then, with wire manufactured in the UK used by more than 1,000 customers in the USA, Canada and Mexico.
Davidon Alloys Inc is looking to capitalize on new demand from clients supporting the automotive, aerospace, medical and oil and gas sectors keen to get back to pre Covid-19 levels.
Angus Hogarth, R&D director at Alloy Wire International, commented, There has always been a close bond between the UK and the US, and this is definitely reflected in the way our two businesses have grown together since our chairman Bill Graham and Davidon president Don DiNuccio met at that event all those years ago. We knew our quality, flexibility of batch size, two-week lead times and technical expertise would be very attractive over there, but we also knew we needed a presence on the ground that shared our values of trust, exceptional customer service and reliability.
AWI supports a network of more than 50 handpicked sales teams covering over 60 countries. The company has also developed country-specific websites, which it says have made a major difference in generating new enquiries and long-term business partnerships.
Don DiNuccio, president at Davidon Alloys Inc, commenting on the partnership with AWI, said, Over the last two decades, we have exhibited at nearly 30 industrial shows together and its UK sales and technical experts have accompanied us on more than 100 customer visits. That personal touch really makes a difference over here.